E-LINE
E-TRAILER 2-unit Solar Restroom Trailer
E-TRAILER is a practical trailer with a 2-unit solar portable restroom. Essentially it is an E-BLOCK station equipped with wheels and two foldable stairs to access each restroom. The trailer can be easily attached to vehicles and unhooked for immediate use.
MOVING A 2-UNIT PORTABLE RESTROOM HAS NEVER BEEN SO EASY
Ready, steady, go! The E-TRAILER takes the E-BLOCK electronic 2-unit station everywhere. Armal applied its expertise in the production of trailers for the portable sanitation industry to the innovative E-LINE solutions that are so satisfying for the end user. Compared to the long term usefulness of E-BLOCK, E-TRAILER is more suitable for short term requirements.
STABLE AND ACCESSIBLE RESTROOMS, ON A SINGLE WHEEL AXLE
The E-TRAILER offers many advantages in an exceptionally small size. Weighing less than 750 Kg, it can be moved by any vehicle with EU B driving license. Stability on site is granted by the adjustable stand to lock the position of the wheels and unfolded stairs' equipment. Operation modes are no different than those available for all the E-LINE solutions:
self-contained (using external fresh and gray water tanks)
mains connected (both water and sewage system)
self-contained using the gray water tank and connected to water supply
self-contained using the fresh water tank and connected to sewage
Technical specifications
Height2.740 mm / 107.87"
Width (overall)1.720 mm / 67.71"
Length (drawbar included)4.285 mm / 168.70"
Internal dimensions (HxWxL)2.070x1.010x1.010 mm / 81.49"x39.76"x39.76"
Height from ground500 mm / 19.68"
Seat height450 mm / 17.71"
Fresh water capacity (self -contained only)500 L / 132.08 gal.
Gray water capacity (self -contained only)500 L / 132.08 gal.
Fresh water pump (No. 1 per each restroom)from 10 L/min. – 2.64 gal./min.
Hand wash sink pump (No. 1 per each sink)from 4 L/min. – 1.05 gal./min.
Gray water flushing pump (No. 1 per each restroom + No. 2 inside the technical room)from 18 L/min. – 4.75 gal./min.
Gray water pump hose diameter38 mm / 1.50''
Water consumption per each flush1 L / 0.26 gal. for the toilet bowl and 0,2 L / 0.05 gal. for the hand wash sink
Weight in running order820 kg / 1807.79 lb.
Power supplyDC 12V
Material used
Trailer's structure made of galvanized steel sheet
Structural profiles in extruded aluminium and insulated panels in fiberglass and polystyrene
Roof in fiberglass and polystyrene
Sanitary wares in ABS and OSB wood panel floor
Features include
Two stations (with toilets and hand wash sinks) and one technical room
Integrated access ladder, balcony, and handrail
Adjustable jack stand to block the wheels which ensures stability when parked and during loading
Metal supporting structure, durable and water resistant
Two fresh and gray water tanks of 500 L/132.08 gal. capacity each located inside the technical room
Automatic pumps management
Solar panel
Push buttons to activate the toilet bowl flushing with fresh water and the hand wash sink
Moulded flushing rim around the top of the toilet bowl to allow fresh water to be directed over the entire surface so that it is completely flushed with water
External plugs for an easy connection to water supply and sewage system (the unit can be positioned at 10 m/393.70'' from the network)
Level sensors and automatic stop when the maximum/minimum levels of the gray/fresh water in the respective tanks are reached (self-contained use only)
Natural light inside the units coming from a porthole on the roof that allows good aeration
LED light with integrated presence sensor that turns on automatically at dusk
Door with return spring and lock system with vacant/occupied indicator
Sanitary wares in ABS
OSB (Oriented Strand Board) wood panel floor
Paper hand towel dispenser in foils and soap and sanitizer dispenser
Toilet paper dispenser in foils and 8 L/2.11 gal. plastic dustbin
Mirror
Coat/tool-belt hook
Predisposition for No. 2x65Ah car batteries
Standard colors
Discover the E-TRAILER 2-unit Solar Restroom Trailer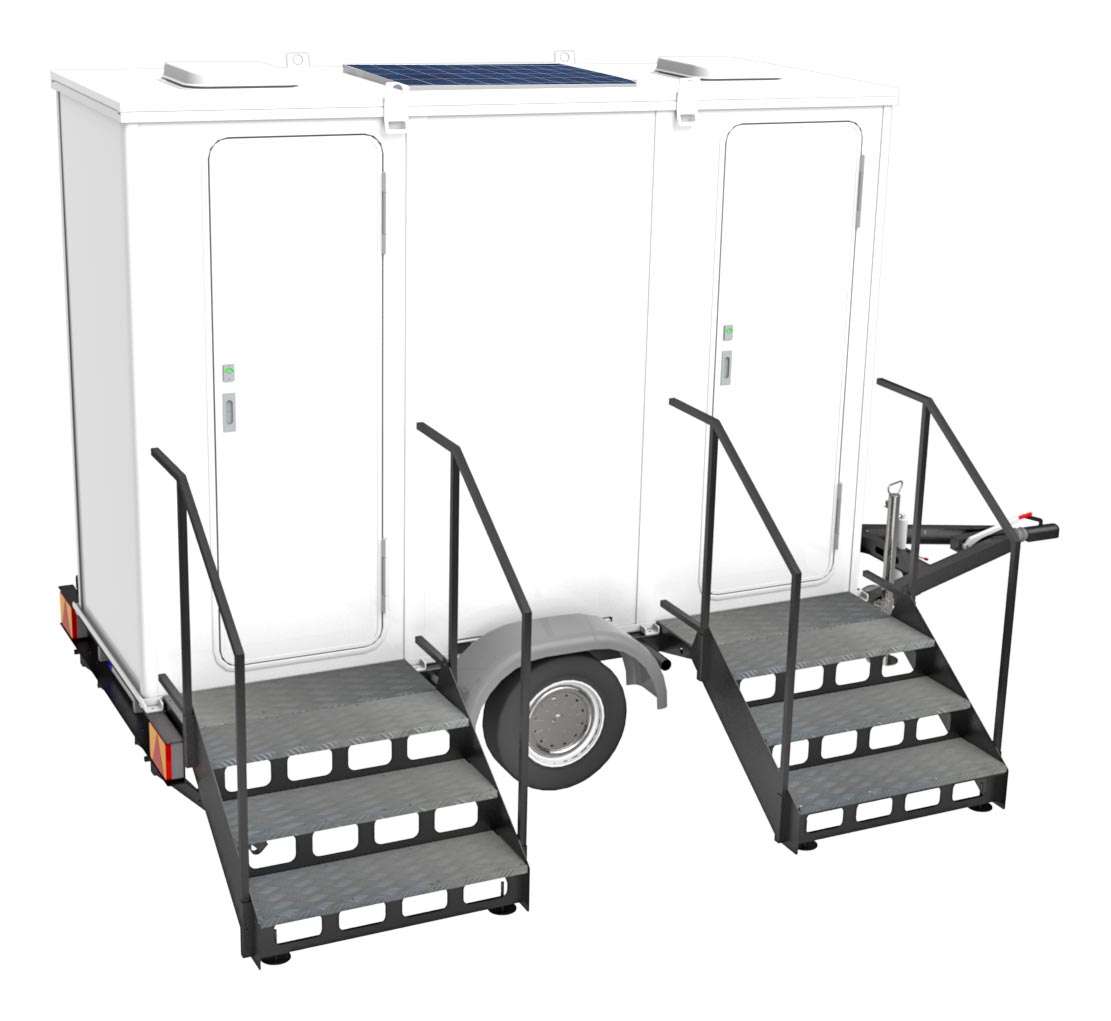 Are you interested in E-TRAILER 2-unit Solar Restroom Trailer?